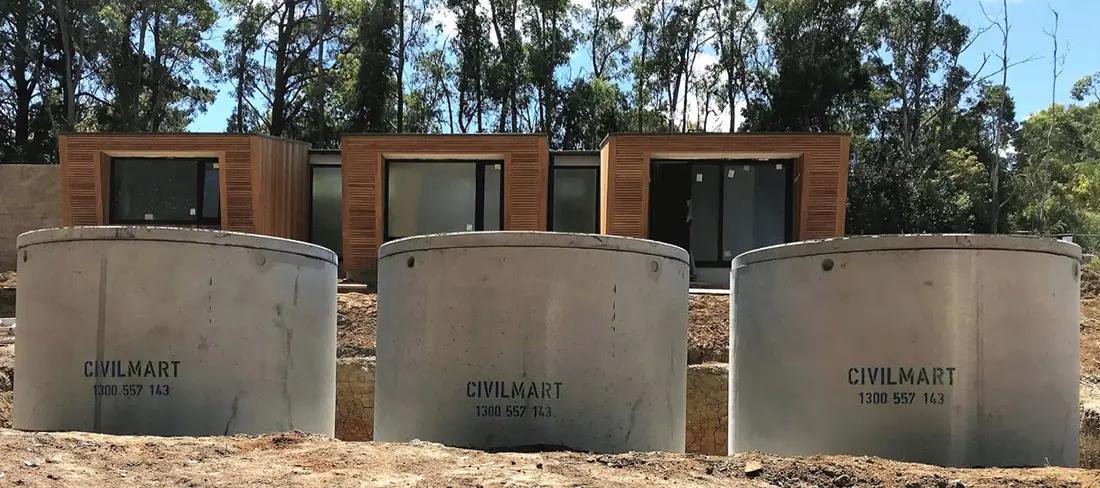 About the Project
Categories Water Tanks
Location Redhill, South West Victoria
Project Scope
This new residential build in Redhill, South West Victoria needed a 60,000L capacity water storage system. This could be achieved in a number of ways using our extensive standard product range of precast concrete water tanks.
Project Outcomes
For this project, we delivered 3 x 20,000L precast tanks with a low-level manifold for water reuse. The site had restricted access, delivery and installation had to be quick and the site-cut needed to be minimised. This was the best outcome for the customer. Once complete the installation area will be covered with new decking, preserving the bush outlook. Living off-grid has never been easier!
Water Tanks
We offer an extensive range of precast concrete water tanks suitable for above or in-ground installation up to 37,250L. Our multi-part range including bases, risers (or rings) and lids, can be configured to meet any project specifications. Multiple tanks can also be joined side-by-side for greater capacity.
Standard range from 1700L up to 37,250L
One-piece design available from 1700L up to 5000L
Tank with seperate lid available from 3800L up to 20,000L
Multi-part configuration from 22,150L up to 37,250L
Join multiple tanks side-by-side for greater capacity
Suitable for above or in-ground use
Standard, heavy and extra heavy duty load classifications
Anti-flotation device supplied for tanks over 5000L
Suitable for drinking water or reusable wastewater storage
Customisation available